Sri lankan Squad to Olympic 2008 consist of eight members and lead by sprinter queen Susanthika Jayasinghe, Will fly to Beijing, China soon...


The Sri Lankan team of three men and four women includes athletic sensation Susanthika Jayasinghe; javelin thrower Nadeeka Lakmali; badminton player Thilini Jayasinghe; shooter E.M. Senanayake; and boxer Anuruddha Ratnayake. In addition, the NOC has included Mayumi Raheem and Daniel Lee for the swimming events.
Sri Lankan Squad:
Susanthika Jayasinghe
Nadeeka Lakmali
Thilini Jayasinghe
E.M. Senanayake
Anuruddha Ratnayake
Mayumi Raheem
Daniel Lee
Chinthana Vidanage
1.Susanthika Jayasinghe:
Susanthika Jayasinghe (born December 17, 1975 in Atnawala, Sri Lanka) is a sprint athlete specializing in the 100 and 200 metres.
Brought up in a poor family in a small village 60 kilometres north of Colombo, where running spikes cost more than the average month's wage, Susanthika had no access to proper sports equipment or coaches. Yet in spite of these underprivileged conditions she managed to progress to a standard where she could claim medals at both the Summer Olympics and IAAF World Championships in Athletics.

After her performance in 1997 at the IAAF World Chamionships she travelled to the United States of America to train.

Along with Sriyath Subash Dissanayake, Dhamyanthi Dharsha and Sugath Tillakaratne her athletics performances have lifted Sri Lanka to the international competitive level. In 2000 she became the nation's first Olympic Games medalist since 1948, when she finished behind Marion Jones and Pauline Davis-Thompson in the Women's 200 meters. On October 5, 2007 Marion Jones admitted to having been taking performance enhancing drugs prior to the 2000 Summer Olympics. The International Olympic Committee has stripped Jones of her medals. However, the redistribution of the medals will be decided in a forthcoming meeting.
However, Susanthika has been embroiled in controversy most of her career. She was suspended from competition in April 1998 for failing a drug test that she claimed was rigged due to her political beliefs and a falling out with a Sports Ministry official. She was later cleared of the offense. After returning home with her Olympic medal she was attacked by a male athlete because, she believed, she had been supporting former government members in an election campaign.

With no support from her national athletics association she had to go heavily into debt to even reach the 2000 Olympics but after her medal achievement there she was supported by a national fundraising drive in her homeland. In spite of that she left her home country to live in Los Angeles. She currently lives, however, in Sri Lanka.

She recently visited Los Angeles to train with Nagalingam Ethirveerasingam (Asian Games Gold Medalist in high jump - 1958; and two time Olympian in high jump - 1952 and 1956). Shortly thereafter, she won gold medals in the 100 m and 200 m at the Asian Athletics championships 2007 in Jordan a bronze medal for the 200 m race at the IAAF World Championships 2007. It was her first world championship medal in 10 years. She is currently ranked by the IAAF (as of 13th August 2007) 18th in the world for the 100 m sprint and 20th in the world for the 200 m sprint.
2.Thilini Jayasingha:

Twenty three year old Thilini Jayasinghe is a product of Mahamaya College, Kandy who has been shortlisted to take part in the Olympics in Beijing. Jayasinghe is the first ever woman shuttler in Sri Lanka to take part in Olympics.

She had a feeling that participating in Olympics would be out of bound for her since she was not within the required ranking of the World Badminton Federation. But the desire to take part in Olympics and bringing global recognition to Sri lanka has been her goal for many years since she started her badminton school career at the age of thirteen.

And on hearing that she was qualified for Beijing Olympics, she couldn't believe the excitement. "I was thrilled. And my mum was the happiest of all as she encouraged me right through". She seems unable to hide her feelings of rapture.

Her parents are lecturers at the University of Peradeniya. She has a brother who is studying Sport Science in Australia. Due to her busy sports career she says she couldn't spare time for studies.

"I am too busy to do my studies. I enroled for a CIM course but couldn't continue it since I had to go for tournaments abroad. I have finished my banking exams. I missed many class sessions and had to collect notes from friends. However I got through the banking exam stage - I. Presently I am busy practising for Olympics, and after that I have to continue my studies"

She has been granted duty leave from Sampath Bank where she is employed. She says that she receives help and encouragement from her seniors and colleagues at the bank.

She is feeling lonely and missing her parents in Kandy. She hasn't got much friends in Colombo to hang out with. She is staying in a hostel room provided by the SLBA (Sri Lanka Badminton Association).

Her roommate is Nadeeka, Sri Lanka's no three badminton player whom she hangs out with for shopping and dinner. Her practice sessions are from 9 a.m.-12 p.m. and again 3.30 p.m.-6.00 p.m.

The only off day from practice during the week is Wednesday where she keeps free for her personal activities. She is eagerly waiting till saturday to rush to Kandy to visit her parents and most of her friends. She very often takes a train otherwise an inter city bus and travels alone.

She stays in the quarters of University of Peradeniya. While attending Mahamaya College, Kandy, first sport she engaged was swimming. Later on she hook to badminton. Apart from that she had been an athlete, girl guide and a member of western music choir.

Her friends and teachers had helped to balance her studies and sport. She has shown her prowess not only in sport but in studies as well. She has got 5Ds and 5Cs at the O/L and 3Cs in commerce stream at A/Ls.

Her first tour representing Sri Lanka was to India in 1999. Besides that, she has represented Sri Lanka at many tournaments in Pakistan, Nepal, Bangladesh, Maldives, Japan, Indonesia, Jordan, Germany, Netherlands, Malaysia, Syria, Iran, Bahrain, Qatar, Australia and many more countries where she herself is unable to recall.

Being to many countries at a young age is a blessing because it helps to gather more experiences. "experience I received being in those countries is numerous.

Apart from participating in sports I could observer how life styles change from country to country. I could collect many memorable articles, and coins of many countries. I have a big coin and stamp collection".

She is thankful to everyone who has rendered their service to be what she is. Minister Gamini Lokuge, Ministry of Sports, National Olympic Committee, Sri Lanka Badminton Interim Committee and her dear parents, Maiya (younger brother), Sampath Bank, friends at Mahamaya College and her best friend who is working in Dubai, she remembers with utmost respect and gratitude.

She is counting down to fly to Beijing because she is going to meet many of her foreign friends there. "When I was taking part in tournaments I used to hang out with foreign friends who also took part in games at the same time with me. We used to go out for dinners and shopping together. We enjoyed a lot.

Even after they went back to their countries still kept in touch with each other. When they heard that I was selected for Olympics they were very happy and wished me. I am looking forward to seeing them at the Olympics in Beijing this time". She winded up the chat with a smile full of hopes.






3.Mayumi Raheem:
Mayumi Raheem was born on September 15th, 1991. She is a Sri Lankan national and currently lives in Singapore and attends the United World College of South East Asia (UWCSEA). She has previously lived in Sri Lanka and New Zealand. She was a member of Singapore Swimming Club from 2004 until 2007 when her Australian Coach, Jaan Murphy, whom she publicly attributed much of her success too returned to Australia. She then swam for Swim Fast Aquatic under former Singaporean National record holder, David Lim before moving to the Grassroots club under american coach Jack Simon.

She does well at school and recently gave her IGCSE Maths (Accelerated) Examination.

Mayumi began swimming at the age of 8, and has been swimming ever since. She is an international swimmer and captained Sri Lanka's national swimming team to the Asian Games.

She is an accomplished swimmer who has won gold medals for the Women's 50, 100, and 200 m Breast Stroke at the 2006 South Asian Games. For those games she also won 5 silver medals and 3 bronze medals, a record for any athlete at a single games. She also won a bronze medal for Breast Stroke at the recent Singapore leg of the Swimming World Cup. She also contested a semi-final in the women's 50m breaststroke at the 2006 commonwealth games in Melbourne, Australia and has represented Sri Lanka at the 2005 World Championships, and the 2006 World Short Course Championships. She also holds numerous Sri Lankan national records. In 2006 she placed second at the Singapore National Open Championships behind a US-Based Singaporean athlete to become the fastest women over the 200m Breaststroke based in Singapore. She was coached to the aforementioned accomplishments by Australian coach Jaan Murphy at Singapore swimming club from 2004 to 2007 until his return to Australia. She has been selected to compete at the 2008 Olympics in Beijing for Sri Lanka.
4. E.M.Senanayake:

Edirisinghe Mudiyanselage Senanayake is the first ever shooter to have earned qualifying standards in Air Pistol shooting to represent Sri Lanka in an Olympics. When the Sportstar went to Panagoda Shooting range to meet Senanayake he was engaging in a routine practice session in 10 Meter Air Pistol shooting, observed watchfully by Brigadier Edema. In the hands of calm and collected Singha Regiment sergeant the air pistol looked as if it was made out of feature for he handled it with utmost control the pellets hardly missed the bull's eye. After three rounds of firing he had collected every possible point available.

"I was handling the T56 efficiently. In an Inter regiment meet in 1997 the way I fired the weapon attracted Colonel D.B. Rajasinghe. He saw my talent," said Senanayake who has served in a better part of his career in crucial nerve points including Elephant Pass in the northern front.

Senanayake who had trained to combat with heavy weapons took to Sports shooting in 1997 under the auspicious of Lieutenant Colonel D.B. Rajasinghe. "I was directed to Sniper Training School of Diyatalawa. And trained under Lieutenant Colonel D.B. Rajasinghe. Later I was trained by Colonel P.B. Kularatne, the then national coach. He is now the National Coach of England's disabled shooting team," said Senanayake explaining his introduction to sports shooting.

"After Colonel P.B. Kularatne retired I came under the guidance of Brigadier K.W. Edema who is behind the success of many Army shooters," said the South Asian Silver medalist who had shattered three national records under the present coach.

The records at the 2006 National Meet

Senanayake broke 15 year old records established by ASP Gamini Walgama by collecting 557 points ( early record 549) and 579 points (early record 577) in the 50 Meter Free Pistol and Air Pistol events respectively at the National Meet in 2006. The other meet record was established in the team event.

On his chances at the Beijing Olympics he says: "This is nothing to do with physical fitness or any thing. It is all about mental steadiness. I am working hard on those areas. I have improved but I will keep on training until I achieve perfection. If I do well on that particular day I will be among the top. Even the best shooters who aggregate highest marks falter at the competition between the best eight. I will do my best to keep a cool head. Then I would be among the top shooters."

Born on a valentine day in 1970, Senanayake is the second child of a family of five children. Now a father of two children Senanayake's worries are minimal as the Sri Lanka Army has looked to the good and safe upbringing of the family who are living close to him at Panagoda. "He needs peace of mind to engage in this sport. For that Sri Lanka Army has provided what ever needed to keep the worries away, we are thankful to Army Commander Sarath Fonseka for his help," said his coach Edema. He also thanked Shirantha Peiris, the vice president of Sri Lanka Sports Shooting Federation and Hemasiri Fernando, the National Olympic Committee Chairman who have helped the shooter as of late.
5. Nadeeka Lakmali:

LANCE CORPORAL NADEEKA LAKMALI of 2nd Battalion Sri Lanka Army Women's Corps ( 2 SLAWC) Wednesday (01) added history to the Sri Lanka Army sports sphere by establishing a new Sri Lanka record in the athletic meet organized by Sri Lanka Army Volunteer Force (SLAVF) at the Sugathadasa stadium, Colombo.

Showing her future prospects, the woman soldier beat the previous record made by Anne Maheshi de Silva of Sri Lanka Navy in the Asian Games 2006 in Doha, Qatar and established a new record in the Women's Javelin throw event.

Last year Lance Corporal Lakmali secured a gold for the same event at the South Asian games held in Colombo. Months after that she bagged a bronze medal at the Asian athletics championship in Amman, Jordan held two weeks ago.

Her yesterday's golden performance with an impressive distance of 58.48 meters as against the previous 56.20 meters record brought reputation to the Army as well as to the whole island.



Lance Corporal Lakmali, educated from Kahaduwa Maha Vidyalaya in Galle was earlier coached by Manjula Mohotti, S.M.G. Bandara and A.J. Rajaguru. Major General Palitha Fernando, himself a renowned coach and the President of the Athletics Association of Sri Lanka after spotting her talents picked her for further coaching.

Her new record was witnessed by none other than Major General D.V.S.Y. Kulathunga, Commandant Sri Lanka Army Volunteer Force (SLAVF) as chief guest in the company of many senior officers, other ranks and a host of sports fans. The athletic championship was held during July 30-31. Trophies and certificates were given away on Wednesday (01) to the winners, Lance Corporal P.P.S

Ranasinghe, Best Performance (Men), Private W.M. Ajith Best Performance (Men) field events, Corporal M.D.P Wickramasinghe Best Performance (Women) track events, Lance Corporal Nadeeka Lakmali, Best Performance (New Sri Lanka Record) and runners up in all events.

6.Anuruddha Rathnayake:

After a lapse of 40 years boxer Anuruddha Ratnayake of Slimline Sports Club has qualified for the Beijing Olympics to be held in China next year after he won the third round fight of AIBA World Boxing Championship 2007, now in progress in Chicago, USA.

Anuruddha who was fighting in the under 51 kgs received a bye in the first round beating Australia`s C.E.A.P.A. Jimmy in the second round

In the next fight Anuruddha overcame Juan Vega of Ecuador by 26 points to 19 in third round fight on Wednesday evening. Thus he has qualified for the quarter finals.

President of the Amateur Boxing Association of Sri Lanka (ABASL) Dian Gomes told the Daily Mirror said that Anuruddha Rathnayake has brought great honour to his motherland by qualifying for the Olympics. `It has always been my dream to get at least one boxer to the Olympics,` said Gomes.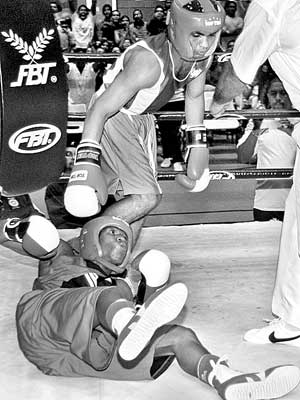 Before Anuruddha fought is way to the Beijing Olympics Sri Lanka`s sole competitor to the Olympics was H.K. Karunaratne of the Army.

A proud Gomes said: `Anuruddha Rathnayake is now amongst the top eight boxers in this weight category. He has a very good chance of beating Italian boxer Picardi Vicenzo in the quarter finals. He is ready to flat out against the Italian.`



Anuruddha Ratnayake is an old boy of Peradeniya Central. He faced a two year suspension following disciplinary action taken by the ABA of Sri Lanka. He made a storming return to the ring at this year`s Layton Cup meet and has triumphed in all local meets up to now. He also bagged the South Asian Games silver medals in 1999, 2000 and 2004 and finally won and annexed an international medal against Tanzania in Sri Lanka recently.

Sri Lanka`s other boxer, Manju Wanniarachchi went out of the AIBA World Boxing Championships after losing to Russia`s Sergey Vodopyanov in the bantam weight under 54 kgs weight class.

The AIBA World Boxing Championship 2007 which got underway on October 23 will end on November 3.
7.Chinthana Geethal Vidanage:


Chinthana Vidanage of Sri Lanka was a student in Polonnaruwa Royal Central College, Polonnaruwa. He won a gold medal in the men's 62 kg category weightlifting; the first weightlifting gold medal for Sri Lanka in the 2006 Commonwealth Games held in Australia


8.Daniel Lee
-----no informations available at this moment------If you have some infomations pls send to Author----
---
Author: Oshan Herath

Sources: Wikipedia.com
Army.lk
Lankapage.com
Asiantribune.com
Lankanewspapers.com
Lankaeverything.com
Sawnet.org
Srilankanewsfirst.com
News.lk

Contact Author: Oshan@tops.lk
Oshanherath@gmail.com
Posted on Tuesday, July 22, 2008 @ 17:02:07 LKT by
oshan
10173
Article Reads.
Bookmark and Share
Copy HTML:
If you like this then please subscribe to the
RSS Feed
.